Get Personalized notepads/ custom printed post-it notes/ custom printed sticky notes wholesale ASK US ABOUT OUR 24-48 HOUR TURN AROUND ON CUSTOM POST-ITS
GET FAST, EASY ORDERING – WHOLESALE PRICED! GET FREE SHIPPING! FREE SET-UP – GENUINE 3M POST ITS
These are the main branded post-its notepads wholesale
And we also have these personalized notepads
Shop pricing for 500 personalized post its and up
HOW TO ORDER:
 See your proof before you pay.
 1) Use the form below (at bottom of page) or send the art and the order info (personalized post its pad size, quantity, etc). to info@thediscountprinter.com 
 2) You will receive back your own secure proof/invoice page for you to complete the post it notes order
 3) If the post it notes order and proof look right, you complete the order through the shopping cart
 4) Need a quote? Email: info@thediscountprinter.com 
(Adhesive on the 4″ side)
500 pads – 25 sheets per pad
1 color imprint: .59
SPECIAL – FULL COLOR – .49
2 color imprint: .79
3-4 color imprint: 1.09
500 pads – 50 sheets per pad
1 color imprint: .89
 SPECIAL – FULL COLOR – .79
2 color imprint: 1.09
3-4 color imprint: 1.39
FREE SHIPPING ON ALL THESE PADS

1000 pads – 25 sheets per pad
1 color imprint: .44
 SPECIAL – FULL COLOR – .44
2 color imprint: .59
3-4 color imprint: .69

1000 pads – 50 sheets per pad
1 color imprint: .62
 SPECIAL – FULL COLOR – .62
2 color imprint: .89
3-4 color imprint: .99
FREE SHIPPING ON ALL THESE PADS

2500 pads – 25 sheets per pad
1 color imprint: .39
 SPECIAL – FULL COLOR – .39
2 color imprint: .45
3-4 color imprint: .99

2500 pads – 50 sheets per pad
1 color imprint: .59
 SPECIAL – FULL COLOR – .59
2 color imprint: .65
3-4 color imprint: .89
FREE SHIPPING ON ALL THESE PADS

5000 pads – 25 sheets per pad
1 color imprint: .36
 SPECIAL – FULL COLOR – .36
2 color imprint: .39
3-4 color imprint: .37
5000 pads – 50 sheets per pad
1 color imprint: .57
 SPECIAL – FULL COLOR – .57
2 color imprint: .62
3-4 color imprint: .95
FREE SHIPPING ON ALL THESE PADS

(Adhesive on the 4″ side)
500 pads – 25 sheets per pad
1 color imprint: .79
SPECIAL – FULL COLOR – .79
2 color imprint: .89
3-4 color imprint: .99
500 pads – 50 sheets per pad
1 color imprint: 1.39
 SPECIAL – FULL COLOR – 1.19
2 color imprint: 1.49
3-4 color imprint: 1.69
FREE SHIPPING ON ALL THESE PAD

1000 pads – 25 sheets per pad
1 color imprint: .65
 SPECIAL – FULL COLOR – .65
2 color imprint: .72
3-4 color imprint: .89
1000 pads – 50 sheets per pad
1 color imprint: .99
 SPECIAL – FULL COLOR – .99
2 color imprint: 1.09
3-4 color imprint: 1.22
FREE SHIPPING ON ALL THESE PADS

2500 pads – 25 sheets per pad
1 color imprint: .59
 SPECIAL – FULL COLOR – .59
2 color imprint: .69
3-4 color imprint: .79

2500 pads – 50 sheets per pad
1 color imprint: .95
 SPECIAL – FULL COLOR – .95
2 color imprint: 1.05
3-4 color imprint: 1.15
FREE SHIPPING ON ALL THESE PADS

5000 pads – 25 sheets per pad
1 color imprint: .57
 SPECIAL – FULL COLOR – .57
2 color imprint: .65
3-4 color imprint: .75

5000 pads – 50 sheets per pad
1 color imprint: .93
 SPECIAL – FULL COLOR – .93
2 color imprint: 1.03
3-4 color imprint: 1.13
FREE SHIPPING ON ALL THESE PADS

(Adhesive on the 2″ side)
500 pads – 25 sheets per pad
1 color imprint: .49 
2 color imprint: .79 
3-4 color imprint: 1.39 
500 pads – 50 sheets per pad
1 color imprint: .69
2 color imprint: 1.19
3-4 color imprint: 1.73
FREE SHIPPING ON ALL THESE PADS
1000 pads – 25 sheets per pad
1 color imprint: .37
2 color imprint: .59
3-4 color imprint: .97 
1000 pads – 50 sheets per pad
1 color imprint: .59
2 color imprint: .79
3-4 color imprint: 1.19
FREE SHIPPING ON ALL THESE PADS

2500 pads – 25 sheets per pad
1 color imprint:  .34
2 color imprint: .39
3-4 color imprint: .57
2500 pads – 50 sheets per pad
1 color imprint: .55
2 color imprint: .57
3-4 color imprint: .99
FREE SHIPPING ON ALL THESE PADS

5000 pads – 25 sheets per pad
1 color imprint: .33
2 color imprint: .36
3-4 color imprint: .39
5000 pads – 50 sheets per pad
1 color imprint: .39
2 color imprint: .49
3-4 color imprint: .59
FREE SHIPPING ON ALL THESE PADS

(Adhesive on the 2.75″ side)
500 pads – 25 sheets per pad
1 color imprint: .59
SPECIAL – FULL COLOR – .49
2 color imprint: .79
3-4 color imprint: 1.09
500 pads – 50 sheets per pad
1 color imprint: .79
 SPECIAL – FULL COLOR – .69
2 color imprint: .99
3-4 color imprint: 1.29
FREE SHIPPING ON ALL THESE PADS


 1000 pads – 25 sheets per pad
1 color imprint: .39
 SPECIAL – FULL COLOR – .39
2 color imprint: .59
3-4 color imprint: .69

1000 pads – 50 sheets per pad
1 color imprint: .62
 SPECIAL – FULL COLOR – .62
2 color imprint: .79
3-4 color imprint: .99
FREE SHIPPING ON ALL THESE PADS

2500 pads – 25 sheets per pad
1 color imprint: .34
 SPECIAL – FULL COLOR – .34
2 color imprint: .39
3-4 color imprint: .49

2500 pads – 50 sheets per pad
1 color imprint: .59
 SPECIAL – FULL COLOR – .59
2 color imprint: .69
3-4 color imprint: .79
FREE SHIPPING ON ALL THESE PADS

5000 pads – 25 sheets per pad
1 color imprint: .32
 SPECIAL – FULL COLOR – .32
2 color imprint: .36
3-4 color imprint: .45

5000 pads – 50 sheets per pad
1 color imprint: .57
 SPECIAL – FULL COLOR – .57
2 color imprint: .65
3-4 color imprint: .69
FREE SHIPPING ON ALL THESE PADS

500 pads – 25 sheets per pad
1 color imprint: .69
SPECIAL – FULL COLOR – .59
2 color imprint: .96
3-4 color imprint: 1.09
500 pads – 50 sheets per pad
1 color imprint: .95
SPECIAL – FULL COLOR – .89
2 color imprint: 1.09
3-4 color imprint: 1.49
FREE SHIPPING ON ALL THESE PADS

1000 pads – 25 sheets per pad
1 color imprint: .49
SPECIAL – FULL COLOR – .49
2 color imprint: .79
3-4 color imprint: .89
1000 pads – 50 sheets per pad
1 color imprint: .69
SPECIAL – FULL COLOR – .69
2 color imprint: .89
3-4 color imprint: 1.09
FREE SHIPPING ON ALL THESE PADS

2500 pads – 25 sheets per pad
1 color imprint: .36
SPECIAL – FULL COLOR – .36
2 color imprint:.54
3-4 color imprint: .59
2500 pads – 50 sheets per pad
1 color imprint: .65
SPECIAL – FULL COLOR – .65
2 color imprint: .74
3-4 color imprint: .79
FREE SHIPPING ON ALL THESE PADS

5000 pads – 25 sheets per pad
1 color imprint: .34
SPECIAL – FULL COLOR – .34
2 color imprint: .47
3-4 color imprint: .49
5000 pads – 50 sheets per pad
1 color imprint: .59
SPECIAL – FULL COLOR – .59
2 color imprint: .65
3-4 color imprint: .69
FREE SHIPPING ON ALL THESE PADS

HOW TO ORDER:
 See your proof before you pay.
 1) Send us the art and the order info (pad size, quantity, etc). Send to info@thediscountprinter.com or use the form above.
 2) We will send back your own secure proof/invoice page for you to complete the order
 3) If the order and proof look right, you complete the order through the shopping cart
 4) Need a quote? Email us: info@thediscountprinter.com 

(Adhesive on the 5″ side)
500 pads – 25 sheets per pad
1 color imprint: .89
2 color imprint: .99
3-4 color imprint: 1.39
500 pads – 50 sheets per pad
1 color imprint: 1.39
2 color imprint: 1.49
3-4 color imprint: 1.69
FREE SHIPPING ON ALL THESE PADS

1000 pads – 25 sheets per pad
1 color imprint: .65
2 color imprint: .72
3-4 color imprint: .89

1000 pads – 50 sheets per pad
1 color imprint: .99
2 color imprint: 1.09
3-4 color imprint: 1.39
FREE SHIPPING ON ALL THESE PADS

2500 pads – 25 sheets per pad
1 color imprint: .59
2 color imprint: .69
3-4 color imprint: .79

2500 pads – 50 sheets per pad
1 color imprint:  .95
2 color imprint: 1.19
3-4 color imprint: 1.29
FREE SHIPPING ON ALL THESE PADS

5000 pads – 25 sheets per pad
1 color imprint: .57
2 color imprint: .65
3-4 color imprint: .75

5000 pads – 50 sheets per pad
1 color imprint: .93
2 color imprint: 1.13
3-4 color imprint: 1.25
FREE SHIPPING ON ALL THESE PADS

500 pads – 25 sheets per pad
1 color imprint: .79
2 color imprint: .99
3-4 color imprint: 1.39
500 pads – 50 sheets per pad
1 color imprint: 1.19
2 color imprint: 1.39
3-4 color imprint: 1.69
FREE SHIPPING ON ALL THESE PADS
1000 pads – 25 sheets per pad
1 color imprint: .62
2 color imprint: .72
3-4 color imprint: .89

1000 pads – 50 sheets per pad
1 color imprint: .89
2 color imprint: 1.09
3-4 color imprint: 1.22
FREE SHIPPING ON ALL THESE PADS

2500 pads – 25 sheets per pad
1 color imprint: .59
2 color imprint: .69
3-4 color imprint: .79

2500 pads – 50 sheets per pad
1 color imprint: .79
2 color imprint: .89
3-4 color imprint: 1.15
FREE SHIPPING ON ALL THESE PADS

5000 pads – 25 sheets per pad
1 color imprint: .57
2 color imprint: .65
3-4 color imprint: .75

5000 pads – 50 sheets per pad
1 color imprint:  .74
2 color imprint: .79
3-4 color imprint: 1.13
FREE SHIPPING ON ALL THESE PADS

(Adhesive on the 8″ side)
500 pads – 25 sheets per pad
1 color imprint: .99
2 color imprint: 1.19
3-4 color imprint: 1.79
500 pads – 50 sheets per pad
1 color imprint: 1.39
2 color imprint: 1.49
3-4 color imprint: 2.29
FREE SHIPPING ON ALL THESE PADS

1000 pads – 25 sheets per pad
1 color imprint: .89
2 color imprint: 1.09
3-4 color imprint: 1.39

1000 pads – 50 sheets per pad
1 color imprint: 1.19
2 color imprint: 1.39
3-4 color imprint: 1.79
FREE SHIPPING ON ALL THESE PADS

2500 pads – 25 sheets per pad
1 color imprint: .75
2 color imprint: .85
3-4 color imprint: .99

2500 pads – 50 sheets per pad
1 color imprint: 1.05
2 color imprint: 1.15
3-4 color imprint: 1.49
FREE SHIPPING ON ALL THESE PADS

5000 pads – 25 sheets per pad
1 color imprint: .69
2 color imprint: .75
3-4 color imprint: .89

5000 pads – 50 sheets per pad
1 color imprint: .95
2 color imprint: 1.19
3-4 color imprint: 1.39
FREE SHIPPING ON ALL THESE PADS

(Adhesive on the 8″ side)
500 pads – 25 sheets per pad
1 color imprint: 1.39
SPECIAL – FULL COLOR – 1.39
2 color imprint: 1.59
3-4 color imprint: 1.79
500 pads – 50 sheets per pad
1 color imprint: 2.49
 SPECIAL – FULL COLOR – 2.49
2 color imprint: 2.69
3-4 color imprint: 2.79
FREE SHIPPING ON ALL THESE PADS

1000 pads – 25 sheets per pad
1 color imprint: 1.29
SPECIAL – FULL COLOR – 1.29
2 color imprint: 1.42
3-4 color imprint: 1.69

1000 pads – 50 sheets per pad
1 color imprint: 2.39
SPECIAL – FULL COLOR – 2.29
2 color imprint: 2.49
3-4 color imprint: 2.69
FREE SHIPPING ON ALL THESE PADS

2500 pads – 25 sheets per pad
1 color imprint: 1.25
 SPECIAL – FULL COLOR – 1.15
2 color imprint: 1.39
3-4 color imprint: 1.59

2500 pads – 50 sheets per pad
1 color imprint: 2.35
 SPECIAL – FULL COLOR – 2.27
2 color imprint: 2.39
3-4 color imprint: 2.49
FREE SHIPPING ON ALL THESE PADS

5000 pads – 25 sheets per pad
1 color imprint: 1.22
 SPECIAL – FULL COLOR – 1.15
2 color imprint: 1.35
3-4 color imprint: 1.29

5000 pads – 50 sheets per pad
1 color imprint: 2.29
 SPECIAL – FULL COLOR – 2.19
2 color imprint: 2.29
3-4 color imprint: 2.39
FREE SHIPPING ON ALL THESE PADS

HOW TO ORDER:
 See your proof before you pay.
 1) Send us the art and the order info (pad size, quantity, etc). Send to info@thediscountprinter.com or use the form above
 2) We will send back your own secure proof/invoice page for you to complete the order
 3) If the order and proof look right, you complete the order through the shopping cart
 4) Need a quote? Email us: info@thediscountprinter.com 
 Get custom printed 3M post it notes, personalized notepads, branded post its made and printed in the USA, these post it pads are genuine 3M brand,  buy in all shapes and sizes because we know that's what you are looking for. The pads take from 4 to 7 days in production plus delivery time so that you won't have to wait. Personalized custom post its are the number one promotional product, the post its are used daily by businesses, schools, churches, clubs, just about everyone. These wholesale post it pads made just for you, are the best quality, we print full color post it notes, low minimum post its and personalized sticky notes for all occasions. Let us be your post it notes printer. Custom notepads with logo, personalized to your liking

Wholesale custom printed 3M branded Post it notes and personalized notepads are a marketing tool that we found to be very effective in pleasing clients and promoting business. Post-it Note pads make excellent gifts and promos for every type of business from Realtors to doctors to bankers and more. We print them for schools, businesses, churches, clubs, etc. We have been printing Genuine 3M Post-it Notes for years and each year, the process gets more streamlined and the pads become even more excellent!

Our big plus now is printing four color process (that's full color) pads for the price of one color. 

Post-it Notes and custom printed sticky notes come in all shapes and sizes, they come in cubes, too. Square cubes allow for the sides to be printed (in full color if desired) and these sit on desks and are used for months if not years! Stick your name out there on custom sticky notes! 
 Post-it notes, the marketing tool that keeps on giving
7 Reasons to use post-it notes for your marketing
Personalized post its, Fast, easy ordering, free shipping – custom printed 3M post-it notes/sticky notes, low minimums – 6 pads and up! We sell wholesale post it notes.
WHY YOU SHOULD BUY PERSONALIZED POST ITS FROM US:
1) Aside from wholesale prices on personalized post its, fast service, free shipping, we are one of the first online printing companies, from the early days of the 1990s – we have printed millions of wholesale post-it notes for thousands of people including name brands, every school and college you can name, churches, clubs, offices, Fortune 500 companies. We would like to print for you!
2) We print genuine 3M Post-it Notes. In the past few years the patent expired and there are lots of knock-offs. The problem with those is that they don't know how to get the adhesive right – it's either too sticky or not sticky enough. If you want genuine 3M Post-it Notes printed. We do that. We make them here, from scratch!
3) We ship free, we don't have set-up fees and we don't have hidden fees like so many others on our personalized post its.
4) It's easy to order, just email us your order, we'll email you back with the details after that: info@thediscountprinter.com 
5) We offer wholesale, discount pricing to everyone – the public, the trade, you! We offer the best customer service in the industry and we answer emails fast. Very fast.
6) We'll show you proofs BEFORE you purchase anything.
7) We have been doing this for 35 years. We know what we are doing. We work fast and delivery fast. We deliver quality right, the first time
Summary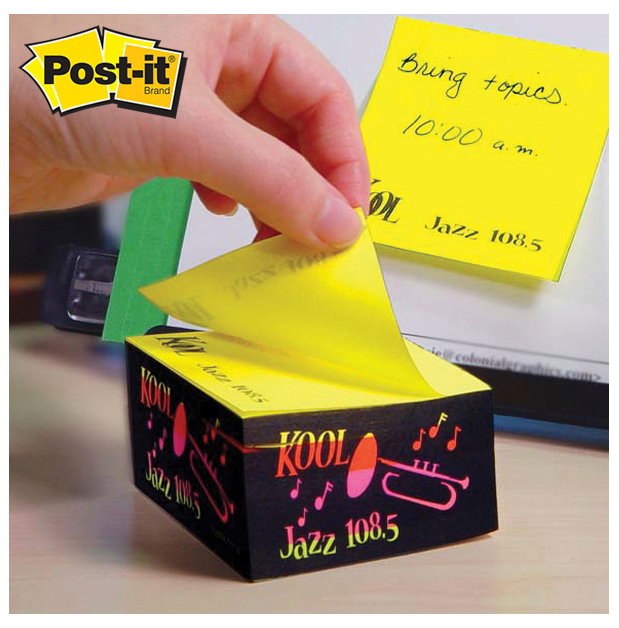 Author Rating
Brand Name
Product Name
Price
Product Availability