Small quantity Post-it® Notes
HOW IT WORKS:
1) Place the order below (3 short steps)
2) We'll send you a receipt via email. 
    Attach art to that and send it back
3) We'll email back a proof for your approval!
4) Or skip all that and just send us the art with the order info and we'll email back a proof/invoice to complete it all.
Email us: info@thediscountprinter.com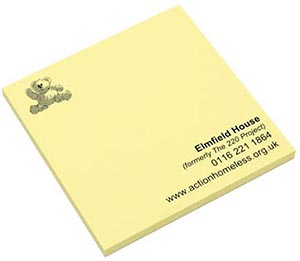 Pads came out perfect. Thank you for working with the art we sent in, I knew it wasn't great, but you made it great!
The pads came out perfectly and arrived early! Thank you again for your assistance. We'll be in touch!
Love the pads. Came out excellent! Will be happy to recommend you to my colleagues.
Order Post-it® Notes here