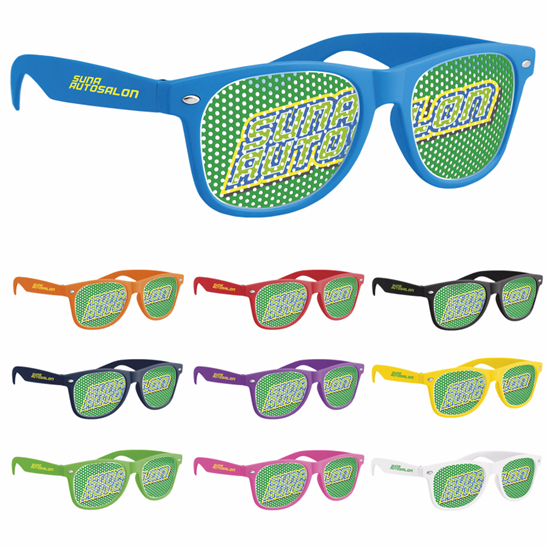 Put your brand in front of a crowd with these fun and funky sunglasses. The modern look features UV400 protective, clear pinhole lenses that are easy to see out of while featuring your 4-color imprint on the front for maximum exposure.
Modern look
Plastic
Impact resistant
UV400 protective clear lenses
PRICE INCLUDES
4 color process on both lenses, 1 color imprint on right bow
DIMENSIONS :
Product Height: 1.875″
Product Width: 5.75″
Product Depth: 6″


Imprint Color for right side arm:
Full color imprint on the lenses. Send us the art for that.
Ad Copy: 12 characters (including spaces) maximum per line

SEND ART@THEDISCOUNTPRINTER.COM
Imprint area for side arm: 1-3/4" w x 3/10" h
Imprint area for lenses: 2-1/8" w x 1-3/4" h - each lens
Copy being printed:
After order is placed, you will receive an order number in email. If sending logo or image,
use that as a reference in the subject line of the email with art you are sending.

RIGHT SIDE 1 IMPRINT
Line 1:
Line 2:

Lenses (send art or we can typeset it, tell us here)
Line 1 side one:
Line 2 side one:
Line 1 side two:
Line 2 side two:
150 is absolute minimum.
These take 7 business days in production, plus shipping time.

ONE SIDE IMPRINT (THIS IS STANDARD on the right arm)
Quantity 150 - 2.69 ea. (403.50)
Quantity 300 - 2.59 ea. (777.00)
Quantity 500 - 2.49 ea. (1245.00)
Quantity 1000 - 2.39 ea. (2390.00)
Quantity 1500 - 2.29 ea. (3435.00)
FREE SHIPPING!

No Screen Charges - No Set Up Charges!
Shipping U.S. only
Taxes: Added to all Florida and California orders.
Orders will be shipped in 7 business days.