Custom Printed Custom Riv-It Mirrored Sunglasses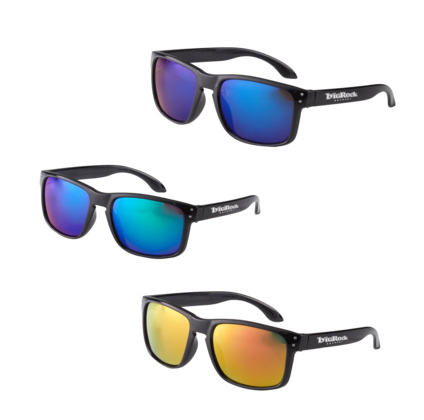 Mirrored lenses highlight the black frames.
Stylish unisex style will look great on men and women.
Large ad space on temples makes these perfect for any event.
UV400 lenses providing UVA and UVB protection.
Lenses are individually cello-wrapped,12 pieces per box.
Frame: 1 7/8″ H x 6″ W,Temple: 7/16″ H x 5 1/2″ W

"They're absolutely fabulous, darling….."
These are individually cell-wrapped for
added protection during delivery.


Imprint Color:
Ad Copy: 12 characters (including spaces) maximum per line

PLEASE EMAIL ART TO ART@THEDISCOUNTPRINTER.COM
Imprint area for this item: 1/4" H x 2" W
Copy being printed:
After order is placed, you will receive an order number in email. If sending logo or image,
use that as a reference in the subject line of the email with art you are sending.

SIDE 1 IMPRINT
Line 1:
Line 2:

SIDE 2 IMPRINT (ADD'L CHARGE SEE BELOW)
If only having one side printed, please leave this blank

Line 1:

Line 2:
144 is absolute minimum.
These take 7 business days in production, plus shipping time.

ONE SIDE IMPRINT (THIS IS STANDARD)
Quantity 144 - 3.69 ea. (531.36)
Quantity 300 - 2.99 ea. (897.00)
Quantity 500 - 2.79 ea. (1395.00)
Quantity 1000 - 2.59 ea. (2590.00)
FREE SHIPPING!

TWO SIDED IMPRINT
Quantity 144 - 4.39 ea. (632.16)
Quantity 300 - 3.49 ea. (1047.00)
Quantity 500 - 3.19 ea. (1595.00)
Quantity 1000 - 2.89 ea. (2890.00)
FREE SHIPPING!

No Screen Charges - No Set Up Charges!
Shipping U.S. only
Taxes: Added to all Florida and California orders.
Orders will be shipped in 7 business days.