We print colored stadium cups and white stadium cups with a full color wrap.
They take 7 days in production plus a few more in transit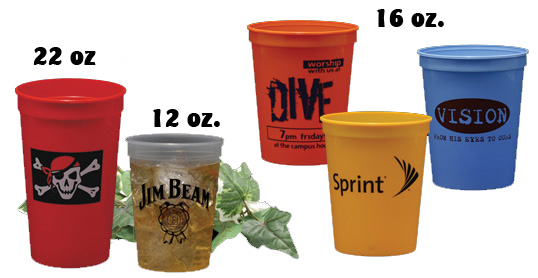 FOR INFO OR QUOTES EMAIL US – EMAIL US YOUR ORDER TOO OR USE THE FORMS BELOW – SEND THE DETAILS & ART – WE WILL RETURN A PROOF WITH INVOICE FOR YOU TO COMPLETE THE ORDER! : info@thediscountprinter.com
Single color imprint cups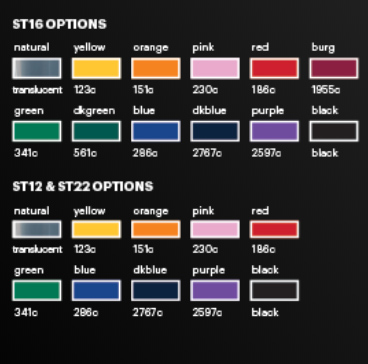 LIDS WITHOUT STRAWS FOR ABOVE CUPS
Plain plastic Frost Molded Lids –  .19 each
These have opening for straw.
100 is minimum 
LIDS WITH STRAWS & STRAW TIPS
Plain plastic Frost Molded Lids with straws –  .29 each
These have opening for straw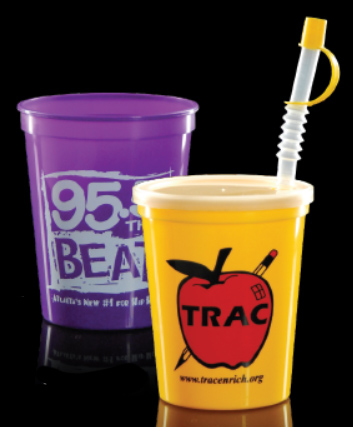 32 oz. White Stadium Cups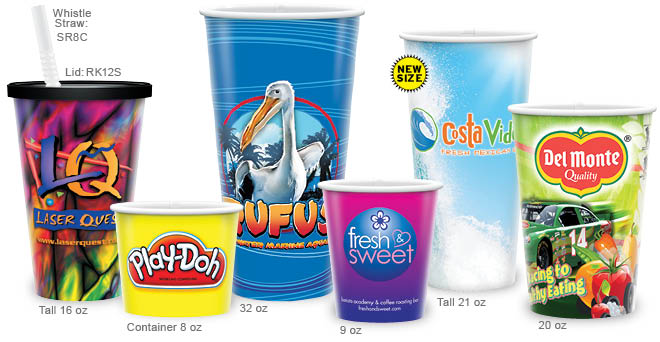 These cups are fully wrapped. Please email us for the template. info@thediscountprinter.com
Send us the completed template with quantity and we will email back a proof/invoice for you to complete the order.
These are run on special schedules. The days they go in and ship are below with pricing.
NOTE: THESE CUPS HAVE A SEAM ON ONE SIDE.
 Our white plastic cups deliver a powerful 1-2 punch. The Hi-Definition, full-color print creates a memorable first impression. The cup's durability and impressive graphics give your prospects a reason to take the cups home generating additional exposure when they reuse the cup over and over again. Plus, our plastic cups are built with 18-20 mil thick polypropylene that will not shatter or crack like lesser plastic cups.
NOTE: THESE ARE LIGHTER THAN STANDARD STADIUM CUPS, THERE IS A SEAM IN THE BACK AND THEY BEND EASIER.
THEY ARE CLOSER TO PAPER CUPS, BUT THEY ARE A LIGHT PLASTIC.
Reusable
Top-Shelf Dishwasher Safe
Durable – White Plastic
Hi-Definition, Full-Color Print
Recyclable

 
Summary
Brand Name
Product Name
Price
Product Availability