Post-it Note pop-up refill pads
These are the pads that fit in the dispensers.
They are refills for dispensers.
HOW IT WORKS:
1) Email us the art and order (quantity, paper color, ink color, how many sheets per pad) to info@thediscountprinter.com
2) Within a couple of hours, we will send back a proof/invoice
3) If you are happy with the proof, please complete the order through the shopping cart.
For all our post it notes pads, please click here.
2-3/4″ x 3″ pads – 50 sheets or 100 sheets per pad
These take 7 business days in production, plus 2-5 days shipping time.
PAPER COLOR- WHITE OR YELLOW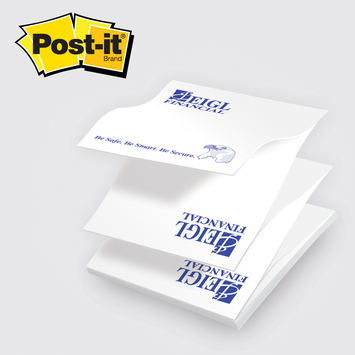 2-2/4″ X 3″ PADS 
(Adhesive on the 2″ side)
250 pads – 50 sheets per pad
1 color imprint: 2.29
250 pads – 100 sheets per pad
1 color imprint: 2.99

2-2/4″ X 3″ PADS 
(Adhesive on the 2″ side)
500 pads – 50 sheets per pad
1 color imprint:  1.39
500 pads – 100 sheets per pad
1 color imprint: 1.89

2-2/4″ X 3″ PADS 
(Adhesive on the 2″ side)
1000 pads – 50 sheets per pad
1 color imprint:  .89
1000 pads – 100 sheets per pad
1 color imprint:  1.29
2-2/4″ X 3″ PADS 
(Adhesive on the 2″ side)
2500 pads – 50 sheets per pad
1 color imprint: .59
2500 pads – 100 sheets per pad
1 color imprint: .99