The SOFT SIDED CUPS (shown on left) come clear with one color imprint
The cups shown at right are FROSTED FLEXIBLE TUMBLERS.
To order, please send us the art or the text and the cups style and size and quantity. We will send back a proof/invoice to complete the order.
They take 7 days in production, plus a few more in transit.
10 OZ. SOFT SIDED CUPS – CLEAR
Top: 3-1/8″ – Height: 4″    
Imprint area: 2-3/4″w x 2-3/4″h
100 – $149.00 (1.49 ea.)
250 – $197.50 (.79 ea.)
500 – $345.00 (.69 ea.)
1000 – $420.00 (.42 ea.)
2500 – $825.00 (.33 ea.)
5000 – $1600.00 (.32 ea.)
10000 – $2900.00 (.29 ea.)
FREE SHIPPING
12 OZ. SOFT SIDED CUPS – CLEAR
Top: 3-5/8″ – Height: 4-1/4″    
Imprint area: 3-1/4″w x 2-1/4″h
100 – $152.00 (1.52 ea.)
250 – $205.00 (.82 ea.)
500 – $360.00 (.72 ea.)
1000 – $450.00 (.45 ea.)
2500 – $900.00 (.36 ea.)
5000 – $1750.00 (.35 ea.)
10000 – $3200.00 (.32 ea.)
FREE SHIPPING
16 OZ. SOFT SIDED CUPS – CLEAR
SS16 – 16 oz: Top: 3-7/8″ – Height: 4-3/4″    
Imprint area: 3-1/2″w x 2″h
100 – $169.00 (1.69 ea.)
250 – $230.00 (.92 ea.)
500 – $410.00 (.82 ea.)
1000 – $550.00 (.55 ea.)
2500 – $1175.00 (.47 ea.)
5000 – $2250.00 (.45 ea.)
10000 – $4200.00 (.42 ea.)
FREE SHIPPING
CLEAR OPEN DOMED LIDS
Available on 16 oz size only
.19 each / 100 MINIMUM
CLEAR STRAW SLOT LIDS
Available on 12 and 16 oz sizes only
.15 each / 100 MINIMUM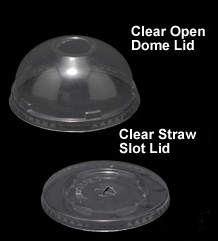 Frosted Flexible Tumblers
16 oz. Unbreakable Frosted Poly Tumblers
100 – $179.00 (1.79 ea.)
250 – $280.00 (1.12 ea.)
500 – $445.00 (.89 ea.)
1000 – $630.00 (.63 ea.)
12 oz. Unbreakable Frosted Poly Tumblers
100 – $199.00 (1.99 ea.)
250 – $272.50 (1.09 ea.)
500 – $445.00 (.89 ea.)
1000 – $620.00 (.62 ea.)
10 oz. Unbreakable Frosted Poly Tumblers
100 –  $149.00 (1.49ea.)
250 –  $222.50 (.89 ea.)
500 –  $375.00 (.75 ea.)
1000 – $550.00 (.55 ea.)